About Us
---
Pegasus Palooza is the University's official Welcome Week and is designed to help students (freshman through senior, transfer, or Connect campus student) acclimate to the campus and get connected to UCF while learning about a variety of resources and making friends. Events are designed to introduce students to campus life, educate them about campus resources and what they can do to be successful, and provide them with fun things to do in their first week back to school.
Pegasus Palooza also provides students with a developmental opportunity to establish themselves as leaders on campus. The Palooza student director is given the unique opportunity to supervise other students, manage a budget, and take ownership of this large-scale program. The executive board is made up of six student volunteers that are in charge of either specific events or specific marketing efforts. These positions offer students a leadership experience that we hope inspires further engagement on campus.
FYE Sponsored Events

Palooza Carnival
As the kickoff event to Pegasus Palooza, the Palooza Carnival is an opportunity for students and their families to relax after a long day of move-in with classic carnival games, community vendors, and UCF departments.

LINK Launch
The official start to the LINK Program, LINK Launch offers students the opportunity to meet fellow students, enjoy great music and live performances, a chance to win awesome prizes, and enjoy epic entertainment. Incoming freshman students also have the opportunity to reunite with their O-Teamer from their orientation experience.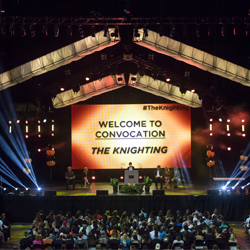 The Knighting, mandatory for all first year students, is the official university welcome for new students (freshmen and transfers alike). Held the Sunday before Fall classes begin, the UCF President and other distinguished speakers, the UCF Spirit Team, Knightro, and others kick off students' academic journey during an exciting and motivational event.

LINK Amazing Race
The LINK Amazing race provides students the chance to band together in teams of 4-5 and use their internet-capable devices to race around UCF on a campus-wide scavenger hunt. To complete the Race, students will solve riddles, find hidden wonders around campus, and discover beneficial campus resources. Winners in previous years have won exclusive prizes such as Knight Rave VIP passes or other Palooza Swag.

Knight Rave
As Palooza's official dance party, Knight Rave is the ultimate opportunity to have fun during the first week of school. Held in the CFE Arena, live DJs spin a variety of sick beats featuring EDM, Dubstep, and House music, and glow-sticks and black lights abound.

Palooza @ The Pool
Occurring the day before Summer B classes start, Palooza @ The Pool offers students the opportunity to come to the Leisure Pool next to the RWC for a chance to meet new people, enjoy some refreshments, music, and giveaways! Students will want to make sure they bring their bathing suit and towel because this event is sure to be a splash.